Meet The Owners
In 1996 Bonnie Berney & Helga Kamp decided to pursue their dream. With $2,000.00 in the bank & a pocket full of passion, they set out to build their Military Flight Simulation Development Firm they would name: Shen Te Enterprises. With 16 years of logistic management & training, the journey began in a small two room office & expanded quickly in 1999 to a 3 car garage. With the expansion came a couple of design engineers & wiring technicians. Their first jobs were a full C-17 CPT and a Blackhawk Helicopter Trainer for Boeing & Flight Safety.
In 2006 came another expansion into a 4000 sq ft warehouse & additional engineers, wiring techs, logistic specialists, proposal expert & a purchaser. This expansion took on contracts such as building 2 C-130 Fuselage Trainers, Battle Master Stations for Lockheed Martin, a KC-10 Fuselage Trainer & several KC-46A Fuselage Trainers for the Air Force & Flight Safety.
In 2016 expansion was needed for a 14,000 sq ft warehouse with the award of 5 C-130J Fuselage Trainers for Lockheed Martin. Additional engineers & administrative management personnel were added to total 13 personnel.
In 2018 Shen Te Enterprises was forced to expand once again, this time buying land & building their very own 35,000 sq ft simulation development facility. The building was completed & moved into the summer of 2019 with a total of 30 employees & have celebrated 25 years in business in March of 2021.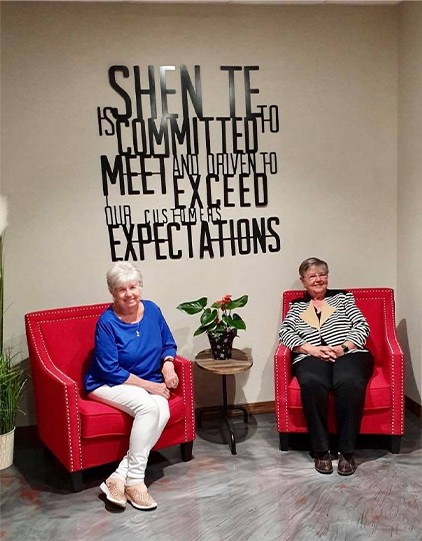 ---
Meet Shen Te
More than a name
Shen Te Enterprises Inc. - Not exactly a typical name for a Military Flight Simulation development firm.
Not only do the owners, Bonnie and Helga, of Shen Te Enterprises have a passion for the Military Flight Simulation industry, they also are passionate for the Chinese Shar Pei breed of dog. "Shen Te" was their first co owned Chinese Shar Pei show dog. Shen Te actually translates from Chinese to English as "DIVINE". Therefore, it became a fitting name for their first Military Flight Trainer Development Firm.